This week's reading was about service learning, a project that we're required to do for this class. While I was reading In the Service of What? by Kahne and Westheimer, I found it inspiring to learn how widely spread service learning is in our educational systems in America. Keeping this in mind, I became curious about how everyone else's service learning projects are going, what other kinds of these projects exist, and what everyone was learning from the various experiences.

I read everyone's blogs to see if anyone answered my questions, and I thought that

Jaclyn's Blog

had a really thoughtful post this week

!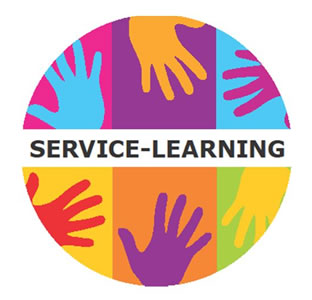 What I really liked about her post is when she talks about the concept of "diminishing otherness"; when you think of people as "others" and different instead of someone similar to you.

Jaclyn talks about her experiences in two different service learning cases: a time when she donated canned goods to a homeless shelter, and her current project, tutoring for FNED. She talks about her experiences with both, and the differences and similarities between the two.

She explains that when doing community projects in middle school and high school, she didn't feel a connection to the project, and just thought of it as "something nice that the school did." But while teaching kids this semester, there's something more to it than just a good deed. She really feels connected to the kids she is helping and feels accomplished. After thinking about it in relation to the article, Jaclyn comes to the conclusion that it's the diminishing otherness that creates the difference between the two experiences for her. When she doesn't work directly with the people she helps, she doesn't establish a connection with them and doesn't feel that that she is learning anything about her community other than how to donate cans. But in her service learning for FNED, she is able to connect with the children she works with and, in turn, learns about the world and moves past the "otherness" that divides her from the rest of society. She says in her post,
"
Maybe that's why I feel my service learning project is different this time. Yes, actually I believe it is. I am finally looking past the "otherness" and have full faith in these students".
I thought Jaclyn's take on the concept of service learning was really interesting, and it made me think about my own experiences with volunteering and my own concept of otherness and what it means to serve the community. Jaclyn mentioned the scenario in the article about the middle class students volunteering in a poor neighborhood, who were surprised to discover that the people there were welcoming and friendly. Reading about her experience, I found that mine were similar because I also experienced the effects of otherness in my project. Providence is often stigmatized as a "bad neighborhood," where many families are poor, giving most people the impression that crime rate is high. There is also a fear that stems from race, and I was fed these fears from society before I began volunteering, and had the misconception that I would be unsafe. Now in my service learning project, I am seeing that the students I work with aren't at all like the negative stereotype. They are all very smart and friendly, and I love working with them each week. It was only this "otherness" that gave me false expectations, and I only proved them wrong through experience.
What I loved most about Jaclyn's post was the quote she included from the article:

"Maybe this [community service] is what citizenship is all about, acting in a decent way towards people who live where we live"(8).

I think this does a fantastic job of summing everything up into something we can all take away from service learning.
By serving our community, we have the opportunity to learn from the people we meet, learn to respect them, and overall, become a better citizen.
Thanks Jaclyn for an awesome post!
J